Introduction
DATA SHEET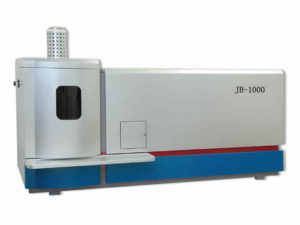 JB-1000 Type Inductively coupled plasma single channel scan Atomic Emission Spectrometer is a large precision and analytical instrument that complex light,machine,electricity and computer all-in-one. It can measure elements more than seventy that diversified from micro-analysis to constant analysis.
Feature
Stable Instrument Structure
The Self-sustaining radio frequency generator with power controlling makes the output power steady.
Adoption of importation step motor and low modulus big-gear transmission framework guarantee scan precision.
Excellent Optical Design
The design of the optimization optical reducing mottle light ,the high reticle ion etch holographic grating guarantee the high resolving power.
Adoption of two grating for interconvert satisfy demanding of different users.
Analysis System
Adoption of intelligentize data transmission system heighten the analysis speed.
Adoption of the Windows operating system of good operating system make the instrument operation convenient.
Parameter
 
Sample Introduction

 

Concentric type quartz tubes
Coaxial type nebulizer
Double canister type atomization chamber

 
Radio Frequency Generating

 

Self oscillate circuit
Coaxial-cable output
Frequency stability<0.1%

Optical system

Czerny Turner type
Ion etch holographic grating

Inspection System

F/V switch circuit
Photomultiplier Tube
Sampling time:100ms-10s
Application
*  Analysis Of Ferrous Metals
Steel: including carbon steel, cast iron, alloy steel, high-purity iron, ferroalloy, ferrosilicon, ferromanganese, ferrovanadium, iron ore, lead smelting, etc.


* Analysis Of Non-ferrous Metals
Analysis of impurity elements in pure copper, pure aluminum and alloys.
Purity analysis of precious metals: Au, Ag, Pt, Pd, Ir, Rh, Os, Ru.


* Environmental Testing
Water quality analysis: mineral water, tap water, river water, sea water, sewage, wastewater, etc.
Food analysis: including food, beverages, etc.
Soil composition analysis: analysis of biological and plant samples.

* Rare Earth Materials And Rare Earth Permanent Magnets
The rare earth elements are completely separated, and the high resolution of this instrument is very suitable for the analysis of rare earth elements.
Analysis of the composition and composition of NdFeB materials in rare earth permanent magnet materials.

* Analysis Of Geological Minerals
Analysis of selected mines
General mine analysis

* Food And Pharmaceutical Analysis
Analysis of beneficial and harmful elements in food, analysis of trace elements in medicinal materials